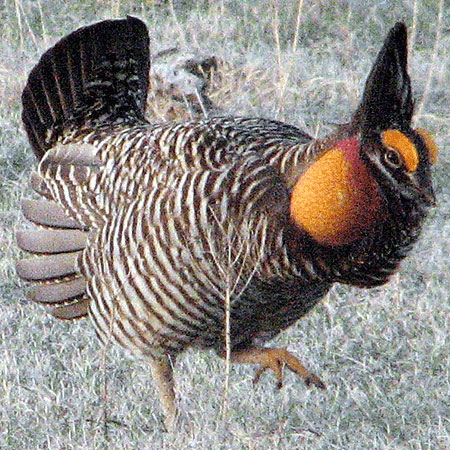 Tour Package Price
$125.00 per person
Lodging is NOT included
Please click here and consult the Lodging Page to make reservations
For More Information, click here.
---
Tour Itinerary
Evening Orientation
5 p.m.—Tour Orientation
Keystone Business Center – 402 Norris Avenue
Attendance is Required
This orientation will last approximately one (1) hour.
A naturalist will give a presentation on the Greater Prairie Chicken, viewing blind etiquette and how the following morning's tour will take place.
Morning Tour
Time TBD-Pick up

The departure time is dependent on weather forecast and the sunrise and can not be determined in advance.
The departure time will be announced at the orientation the night before.

Time TBD—Arrival at Lek

Once you arrive at the lek, you will be escorted into the viewing trailer.
You will be given ample time to situate yourself and get comfortable.
You will be in this viewing trailer for 1 1/2 to 2 hours and will not be allowed to leave so as not to disrupt the mating dance.

8:30 ish—Breakfast
The group will be transported back to McCook to enjoy a hot breakfast .
---
Optional activities for you to do on your own in the scenic Red Willow/McCook area.